As trusted IBM partners, we provide the most cost-effective IBM Planning Analytics licences for planning, budgeting, forecasting, and analysis, with custom services that guarantee maximum ROI.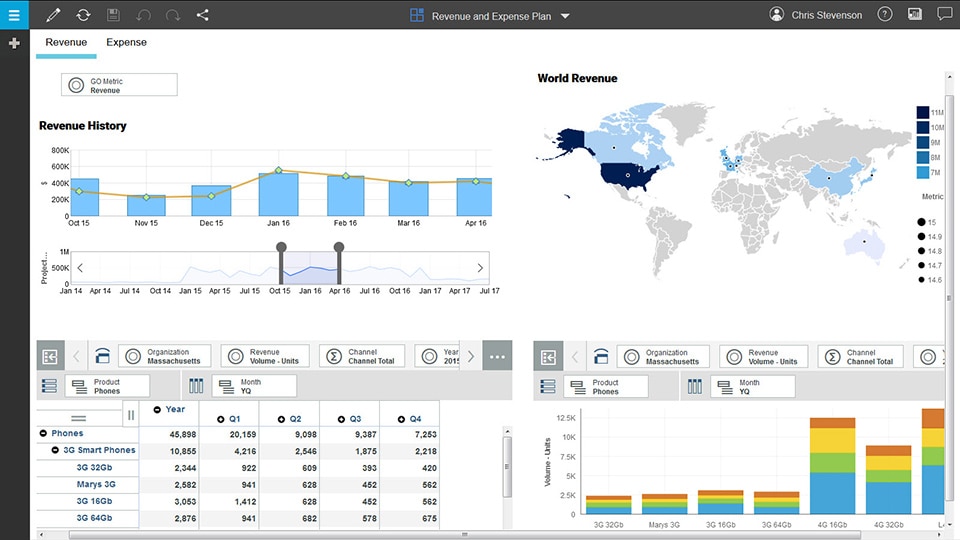 IBM Planning Analytics Overview
IBM® Planning Analytics, the 2018 release of Cognos TM1, automates your planning, budgeting, forecasting, and analysis processes in a single platform, in alignment with your cloud, on-premise, or hybrid hosting strategy.
With expertly selected IBM Planning Analytics licences, businesses can access real-time data from anywhere across the enterprise with self-service analysis through a dynamic, customisable workspace.
As experienced IBM partners, Influential Software provides IBM Planning Analytics services that empower businesses with agile, integrated, and competitive planning tools.
IBM Planning Analytics Licences: Features
IBM Planning Analytics is available as an enterprise-scale solution on-premise or in the cloud, alongside a Digital Pack for workgroups and midsize companies.
IBM Planning Analytics:
minimum 20 users and 1 modeler (on cloud)
unlimited expansion available
non-production instance included, with additional production and non-production instance available
planning analytics workspace
planning analytics for Microsoft Excel
secure gateway to access on premise data
modelling tools via Remote Desktop
advanced reporting, data integration, and task management available
dedicated 512 GB RAM premium option available
IBM Planning Analytics Digital Pack:
minimum requirement: one cloud instance, three modellers, and two additional users
single instance only
planning analytics workspace
planning analytics for Microsoft Excel
secure gateway to access on premise data
modelling tools via Remote Desktop
four-core, 32-GB RAM instance
IBM Planning Analytics Benefits
receive forward-looking insights and report key metrics
uncover predictive insights automatically from your data
access live data from sources across your business
integrate your financial plans and operational tactics
use a self-service, interactive work space for all business users
incorporate information into clear, dynamic visualisations
conduct what-If analyses to test business assumptions and possible scenarios instantly
see financial impacts of potential actions
retain the familiar Microsoft Excel interface where needed to accelerate adoption
see rapid development and deployment of models without batch processing
facilitate rapid on-cloud deployment quickly across the organisation
IBM Planning Analytics Services
As an IBM Cognos Advanced Business Partner, we offer the most competitive prices and level of service.
Whether upgrading existing EP or TM1 installations, or migrating from legacy systems, be confident of a seamless transition to a modern enterprise with Influential Software.
Initial consultation: up to one day's free resource to discuss your requirements and help you understand what IBM can do for your business
Business case analysis: packages ranging from four to 10 days, defining your precise requirements and building proofs-of-concept if necessary
IBM upgrades: assistance in moving to the latest IBM version, with testing and report conversion
IBM projects: competitively priced, well resourced, professional consultancy for whole projects or parts
Our UK-based IBM consultancy, support, and development teams have decades of specialist experience spanning hundreds of successful projects that cover the past 20 years of IBM Analytics releases.
For more about our IBM Planning Analytics services, why not visit our dedicated site?