Buy SAP Business ByDesign Licences
Optimise your SME processes with best-value SAP Business ByDesign licences. Boost your ROI with partner advice, fast implementation, and optional services.
We sell cost-effective licences for SAP Business ByDesign as a public cloud and a private cloud.
Trust in the impartial expertise of high-tier SAP resellers and SAP Gold Partners.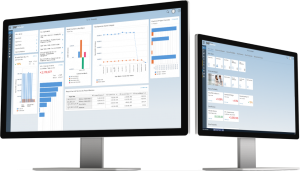 Best-Value SAP Business ByDesign Licences
SAP Business ByDesign Licences: User Types
SAP Business ByDesign licences work on a monthly subscription, with prices depending on the user type and number of users. The three types of user have varying access rights:
Self-service user: does not count towards the minimum number of users (20 for public cloud, 200 for private cloud); can only access essential tasks such as logging time and expenses or purchase requisitions
Team user: only has access to their particular role and business function, e.g. a CRM team user only has access to the customer relationship management tasks
Enterprise user: has access to core functionality as well as functions across business areas, such as full financials, CRM, HR, and projects
SAP Business ByDesign Cloud Licences
Additionally, there are two deployment options for SAP Business ByDesign licences:
SAP Business ByDesign Public Cloud Licences
The SAP Business ByDesign public cloud option has a minimum of 20 users; this option is best for smaller businesses wanting immediate functionality, without the need for special requirements.
SAP Business ByDesign Private Cloud Licences
The SAP Business ByDesign private cloud option has a minimum of 200 users; Influential Software can configure a private cloud to meet any special business requirements.
Fast, Powerful, Scalable: SAP Business ByDesign Benefits
Speed: the service is ready to go from day one. With our SaaS model. there are no delays from license purchasing or infrastructure.
Insights: with real-time information from across your applications and data sources, you gain one version of truth to inform strategic
Management: integrate data from disparate silos, so you know where and what all your data is
Scalability: from 20 up to 5,000 employees, this small business ERP is designed to enable and respond to growing businesses
Growth: increased integration means greater efficiency, creating the agility needed for growth and reflecting this in your bottom line
Accessibility: the application supports multiple browsers, devices, and tablets Affordability: provides the business process functionality of a large-scale ERP without the cost
SAP ERP Cloud for SMEs: SAP Business ByDesign Features
With SAP Business ByDesign, small and medium-sized businesses can manage their processes in a single, flexible cloud application.
An experienced SAP partner can provide SMEs with the benefits of a large-scale business application, using only minimal IT resources, at the most competitive price.
Designed for businesses with 20 employees up to 5,000, SAP Business ByDesign licences enable SMEs to track end-to-end business processes across vital areas such as finance, customer relationships, supply chains, and human resources.
SAP Business ByDesign Licences: SAP Gold Partner Services


Our SAP Business ByDesign services simplify commercial arrangements by bundling technology into one monthly fee.
As SAP partners with 25 years of experience in the sector, we have the experience and expertise to meet understand your business needs and deliver the software that fits.
As well as SAP licences, our team also offers in-house technical expertise in application life cycle management, security services, business consulting services, and any other SAP-related service offerings.
For more details of our SAP Business ByDesign licences and services, why not visit our SAP Business ByDesign website?