Buy SAP Cloud Platform Licences
Develop, integrate, and extend your business applications with best-value SAP Cloud Platform licences. Boost your ROI with partner advice, fast implementation, and optional services.
We sell cost-effective subscription and consumption licences for SAP Cloud Platform.
Trust in the impartial expertise of high-tier SAP resellers and SAP Gold Partners.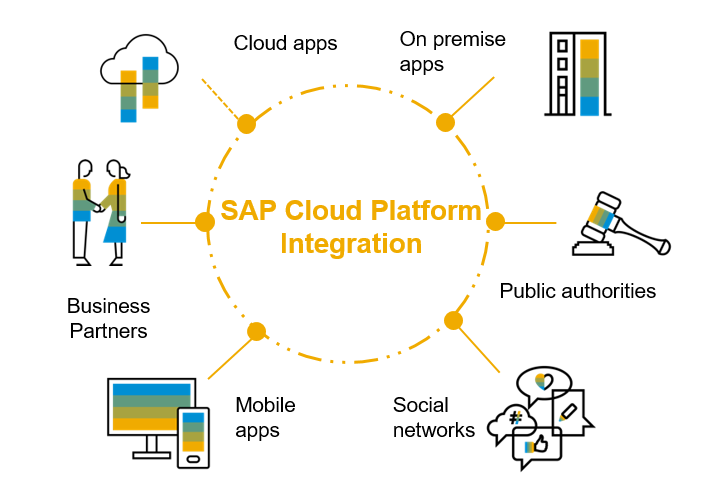 Best-Value SAP Cloud Platform Licences UK
SAP Cloud Platform contains a wide range of services for IoT, machine learning, AI, integration, app development, and Big Data.
SAP Cloud Platform also offers tools for additional functionality in SAP Analytics Cloud: find out more about our SAP Analytics Cloud licences.
We provide SAP Cloud Platform licenses in two formats:
stable subscription model
flexible consumption model
Integrate & Develop: SAP Cloud Platform Services
SAP Cloud Platform, formerly known as SAP HANA Cloud Platform:
offers a secure cloud environment for systems and processes
integrates SAP ECC and non-SAP systems
connects on-premises and cloud applications
provides all hardware, software, and upgrade services
allows you to build cloud apps, mobile apps, and microservices with no-code developer tools
turns multiple data sources into insights via advanced analytics
supports Internet of Things networks and API management
deploys to infrastructure providers such as SAP, AWS, Google, and Microsoft
Flexible & Stable: SAP Cloud Platform Licences
Stable SAP Cloud Platform Subscription Licence Model
Fixed-price subscription model: ideal for businesses that know exactly which services they will use.
businesses purchase a fixed length and number of services, using those services as much as required during that time
the contract is typically 12 months or longer, with the range of SAP Cloud Platform services decided at the start
pricing depends on the number of services and length of contract, while any further services require altering the contract
Flexible SAP Cloud Platform Consumption Licence Model
Flexible consumption model: suitable for businesses that will start and stop projects during the contract period, with the ability to see which services bring the greatest returns.
businesses can use any of the SAP Cloud Platform services, according to their changing needs
the contract is 12 months or longer, and services can be used or dropped at will
businesses pay for the services that they use from a prepaid cloud credit balance
SAP Platform-as-a-Service Licences: Features
Our SAP Cloud Platform services enable the rapid development, integration, and extension of business applications within the latest platform-as-a-service (PaaS), unlocking new efficiencies and accelerating your digital transformation.
With the right SAP Cloud Platform licences, businesses can harness the power of IoT, machine learning, artificial intelligence, and Big Data, without the time or cost of underlying infrastructure.
As experienced SAP partners, Influential Software provides SAP Cloud Platform services that empower businesses to be agile, integrated, and digitally innovative.
SAP Cloud Platform Licences: SAP Gold Partner Services


Our SAP Cloud Platform services simplify commercial arrangements by bundling technology into one monthly fee.
As SAP partners with 25 years of experience in the sector, we have the experience and expertise to meet understand your business needs and deliver the software that fits.
As well as SAP licences, Influential also offers in-house technical expertise in application life cycle management, security services, business consulting services, and any other SAP-related service offerings.
For more details of our SAP Cloud Platform licences and services, why not visit our SAP Cloud Platform website?