---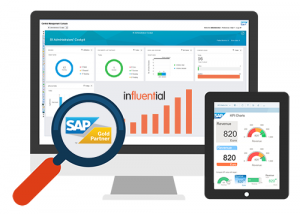 As trusted SAP resellers and SAP Gold Partners, we sell best-value licences for enterprises and SMEs – contact us to buy SAP BusinessObjects licences with supporting services that guarantee maximum returns.
---
SAP BusinessObjects Licence Options
SAP BusinessObjects Enterprise Licences: enterprise-grade SAP BusinessObjects Enterprise is incredibly scalable, allowing up to tens of thousands of users. Licensing models depend on two metrics: concurrent sessions and named users. As well as advising on the optimal selection for your business structure and goals, our team provides a Support and Maintenance Package specifically for SAP BusinessObjects.
Find out more about our SAP BusinessObjects Enterprise licence sales. (LINK)
SAP BusinessObjects Edge: mid-size companies can choose SAP BusinessObjects Edge, a lower-cost licence with similar levels of functionality to the full SAP BusinessObjects Platform. The entry-level price is based on 10 Named Users.
Find out more about our SAP BusinessObjects Edge licence sales. (LINK)
SAP BusinessObjects Benefits
Complete solution: explore, report, and share in one integrated offering
Self-service access: empower employees with reliable data for fast decision-making
Flexible and scalable: grows with your business, up to tens of thousands of users Extensive suite: business intelligence applications to highlight unique insights
High-volume delivery: distribute content, even throughout a very large organisation
SAP BusinessObjects Features
SAP BusinessObjects is an integrated suite of BI solutions, including reporting, analytics, visualisations, and data integration tools.
As a long-term SAP Gold Partner, Influential Software offers the most cost-effective range of SAP BusinessObjects licences.
With the right SAP BusinessObjects licence, businesses can:
understand trends and root causes of business phenomena
use analytics to assess risk, improve efficiencies, and identify opportunities
identify trends and outliers from within Microsoft Excel
share findings in live Microsoft PowerPoint presentations
SAP BusinessObjects Partner Services

Influential Software's consultancy services integrate the pillars of strategy management: goals, initiatives, and key performance indicators.
As SAP partners with 25 years of experience in the sector, we have the experience and expertise to meet understand your business needs and deliver the software that fits.
As well as SAP licences, our team also offers in-house technical expertise in application lifecycle management, security services, business consulting services, and any other SAP-related service offerings.
For more details of our SAP BusinessObjects partner services, why not visit our BusinessObjects consulting website?