As trusted IBM Cognos partners, we sell best-value IBM Cognos licences. Transform your reporting, modelling, analysis, and dashboards – buy IBM Cognos Analytics licences with expert advice.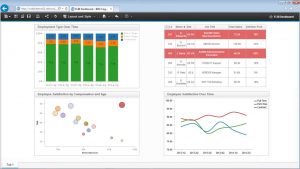 UK IBM Cognos Analytics Reseller
IBM Cognos Analytics is an integrated, enterprise-grade solution for reports, dashboards, and visualizations.
The new Cognos Analytics 11.1 boasts AI capabilities for contextual recommendations, smart data discovery, automated visualisation, and natural-language queries.
With expertly selected IBM Cognos Analytics licences, businesses can use trusted data to create impressive visualisations with the Cognos RAVE engine.
As experienced IBM Cognos partners, Influential Software provides IBM Cognos Analytics licences and services that empower users to solve individual or workgroup challenges without the need for external IT resource.
IBM Cognos Analytics Licensing
IBM Cognos Analytics features three licence types, based on the number of servers required:
Workgroup: 50-100 users, with non-production environment, self-service governance, shared analytics and visualisations, 100GB user storage and backup
Standard: 100-250 users, Workgroup features plus additional pre-production environment and 250GB user storage and backup
Enterprise: 250+ users, includes Standard features plus high performance environment and 500GB user storage and backup
IBM Cognos Analytics licences also depend on the number of the following roles:
Administrator: admin capability
User: read and write capability
Explorer: user plus all capabilities except top admin
Information distribution: write-only capability
Businesses can also benefit from our packaged services, from consultation through implementation to support, to guarantee minimum downtime and maximum functionality.
IBM Cognos Analytics Benefits
Access anywhere: quickly find, analyse, create, and share insights wherever and whenever you require, across web or mobile devices
Greater availability: empower more users with simple, productive, and governed data access
Reporting and visualisations: create visualisations, infographics, dashboards, and reports in minutes with an intuitive and guided experience
Trusted analytics: eliminate risk and gain a single version of the truth with securely curated BI data
IBM Cognos Analytics Licences: Services
As an IBM Cognos Advanced Business Partner, we offer the most competitive prices and the highest level of service.
With 25 years of experience and a host of leading software partners behind us, our Cognos team prides itself on three things:
impartial consultation
tailored services
competitive pricing
Whether purchasing Cognos for the first time, upgrading existing Cognos installations, or migrating from legacy systems, be confident of a seamless transition to a modern enterprise with Influential Software.
Initial consultation: up to one day's free resource to discuss your requirements and help you understand what IBM Cognos can do for your business
Business case analysis: packages ranging from four to 10 days, defining your precise requirements and building proofs-of-concept if necessary
Cognos upgrades: assistance in moving to the latest IBM version, with testing and report conversion
Cognos projects: competitively priced, well resourced, professional consultancy for whole projects or parts
For more about our services for Cognos Analytics, why not visit our dedicated site?