Buy Dell Boomi Licences
Integrate your enterprise with best-value Dell Boomi licences. Boost your ROI with partner advice, fast implementation, and optional services.
We sell cost-effective licences for Dell Boomi Integrate, Mediate, Hub, Exchange, and Workflow.
Trust in the impartial expertise of UK Dell Boomi Partners.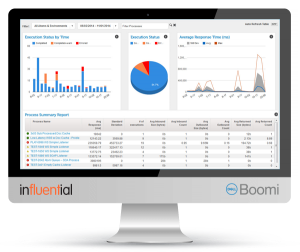 Best-Value Dell Boomi Licences UK
Dell Boomi iPaaS: Integrate, Mediate, Hub, Exchange, Workflow
The Dell Boomi platform consists of five elements for integration, API management, Master Data Management, EDI, and workflow automation.
Dell Boomi Integrate: a cloud and hybrid iPaaS for applications and data. Users can connect to over 1,500 unique APIs, using a combination of application connectors and technology connectors.
Dell Boomi Mediate: this API management and design solution enables businesses to design, secure, and scale APIs, as well as connecting legacy systems and creating composite apps from multiple apps and sources.
Dell Boomi Hub: this Master Data Management (MDM) solution speeds up data transmission and provides a single version of the truth across your organisation.
Dell Boomi Exchange: this EDI/B2B management solution offers a real-time view of shipments, warehouses, and distribution, with instant connectivity to the latest cloud applications.
Dell Boomi Flow: this low-code development platform allows users to create customer journeys and automate simple and sophisticated workflows to efficiently drive business.
Scalable & Centralised: Dell Boomi Integration Licences
Dell Boomi empowers you to manage your end-to-end workflow within one unified platform.
With cloud connectivity and ease of use at the fore, Dell Boomi licences provide five clear benefits:
scalability to suit your needs and growth
lower risk and higher efficiency in integration through crowdsourcing
centralised synchronisation, consolidation, and governance of data across applications
modernises legacy applications and enables mobile strategy with APIs
Flexible Platform: Dell Boomi Licence Editions
Our Dell Boomi solutions are delivered with a simple monthly fee, or at a flexible rate for custom service packages.
The key Dell Boomi licences are:
Base Edition: starter solution for SMBs to integrate two applications
Professional Edition: for businesses looking to fully integrate their back- and front-offices
Pro Plus Edition: additional functionality to support real-time integration needs
Enterprise Edition: advanced features to support complex enterprise needs
Enterprise Plus Edition: advanced features and connectivity to support large enterprise needs
Every Influential Software package for Dell Boomi contains:
Connections between on-premise and cloud apps or data sources
Visual designer
Comprehensive data transformation
Basic workflow
Access to the entire connector network
Unlimited users
Boomi Suggest: uses the collective intel of the Boomi community to perform quick data mapping
Boomi Assure: a regression testing framework that ensures pre-testing and support in future
Boomi Resolve: provides error resolution from the Boomi community knowledge base
Free upgrades: 11 per year
Dell Boomi Licences: UK Partner Services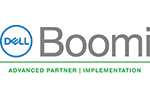 It takes an expert eye to identify and support the optimal Dell Boomi licences for each business case.
Our Dell Boomi partner status is evidence of our hands-on knowledge of Dell Boomi solutions and how they operate in real life. As UK partners, we are also ideally placed to pass on the most cost-effective options for each licence type.
Acting as impartial consultants, Influential Software provides the objectivity your business needs when making software investments.
In addition, we offer full services to make sure your software is perfectly configured and supported, so you get the maximum return.
With 25 years of experience and proven expertise, our Dell Boomi licences team prides itself on three things:
unbiased consultation
tailored services
competitive pricing
For more about our services for Dell Boomi, why not visit our dedicated site?