Buy Adaptive Insights Licences
Embrace active financial planning with best-value Adaptive Insights licences. Boost your ROI with partner advice, fast implementation, and optional services.
We sell cost-effective licences for Adaptive Insights Planning and Analytics.
Trust in the impartial expertise of UK partners for Adaptive Insights.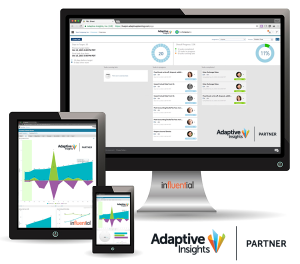 Best-Value Adaptive Insights Licences UK
Tailored to You: Adaptive Insights Licence Options
Influential Software provides Adaptive Insights licences on a subscription basis that varies in price according to:
Package type: Planning or Planning and Analytics
Additional product options
How many seats, of what type
How many systems for automated data integration
Length of the contract
By looking at each of these variables, we can adjust Adaptive Insights solutions to suit both large enterprises and SMEs.
Planning & Analytics: Adaptive Insights Licences
Adaptive Insights Financial Planning and Analytics Licence
budgeting
forecasting
management
ad-hoc reporting and analytics
variance analysis
process management
transaction management
OfficeConnect board reporting
visual analytics and dashboards
single sign-on
Adaptive Insights Financial Planning Licence
budgeting
forecasting
management
ad-hoc reporting and analytics
variance analysis and process management
transaction management
single sign-on
with optional upgrades to add:
OfficeConnect board reporting
visual analytics
dashboards
Flexible & Integrated: Adaptive Insights Licences
Consolidation: consolidates data from General Ledger sources, inter-company eliminations, journal entry management, partial ownership, reclassifications, and close process task management to automate processes, as well as financial and management reporting on consolidated results
Operational Analytics: includes operational data from across the enterprise into visual analytics, while using intuitive dashboards and interactive analysis to allow broad analysis for quick strategic decisions
Integration: provides both on-premise and cloud-based, automated integration with ERP, CRM, HCM, databases, and other enterprise applications
Planning Domains: sets up, links, and manages more than one Adaptive Insights planning domain for an integrated and comprehensive model of a business containing multiple autonomous or semi-autonomous organisations
Adaptive Insights Licences: UK Partner Services

Our Adaptive Insights partner status is evidence of our expertise in how these CPM solutions work for businesses in real life. As partners, we are also ideally placed to provide licences at the most cost-effective prices.
Acting as impartial consultants, Influential Software provides the objectivity your business needs when making software investments.
In addition, we offer full services to make sure your software is perfectly configured and supported, so you get the maximum return.
With 25 years of experience and proven expertise, our Adaptive Insights licence team prides itself on three things:
unbiased consultation
tailored services
competitive pricing
For more about our services for Adaptive Insights, why not visit our dedicated site?