Buy SAP Business Objects Edge Licences for SMEs
Optimise your returns with the best-value SAP BusinessObjects for SMEs. Buy cost-effective SAP Business Objects Edge licences.
Boost your solution with partner advice, fast implementation, and optional services.
Trust in the impartial expertise of high-tier SAP resellers and SAP Gold Partners.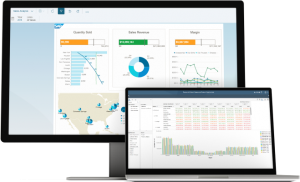 Best-Value SAP Business Objects Licences for SMEs
SAP Business Objects BI, Edge edition: Standard Package
The standard package for SAP Business Objects Edge licences includes:
self-service ad-hoc reporting, query, and analysis
live data access and updates within the familiar Microsoft Office environment
quick business performance insight with interactive, visual dashboards
anywhere, anytime interaction with reports and metrics through BI mobile content delivery
affordable, rapid-deployment options that give higher time to value
integration with SAP, Microsoft SharePoint, Oracle, PeopleSoft, Siebel, and JD Edwards applications
SAP Business Objects Edge licences are available for two kinds of users:
Named user: for administrators, developers, and power users – access to all desktop applications
Concurrent session: allows login by an user – read and edit access to BI documents
SAP BI Licences for SMEs: SAP BO Edge Benefits
SAP Business Objects Edge licences for SMEs include features for all business areas, from ad-hoc reporting and dashboards to data integration and performance management – packaged and priced specifically for smaller businesses.
The right SAP Business Objects licence can grant your business:
regularly updated insights into performance and trends
integrated information without data silos
real-time, business-wide data so all decisions are based on accurate information
cost-effective BI with no maintenance costs
agility to grasp opportunities as soon as they arise
high value for the price of the BI solution, with rapid implementation
The pricing of SAP Business Objects Edge licences depends on the size of your business, the tools required, and the specifications of the CPU and roles required.

SME-Friendly SAP Licences: SAP Business Objects Edge
keyword searches and exploration tools to uncover hidden insights
secure, easy-to-understand data for smarter decisions
mobile connection for anytime, anywhere BI
intuitive, interactive dashboards and what-if analysis
share reports by email and other popular formats
SAP Business Objects Edge Licences: SAP Gold Partner Services


Influential Software's consultancy services integrate the pillars of strategy management: goals, initiatives, and key performance indicators.
As SAP partners with 25 years of experience in the sector, we have the experience and expertise to meet understand your business needs and deliver the software that fits.
As well as SAP licences, our team also offers consultation to ensure you get the most from your investment, including our standard package services: Health Check (assessing your IT estate for problem-free integration) and Quick Start packages, as well as BusinessObjects training.
For more details of our SAP Business Objects services, why not visit our dedicated site?