Buy IBM® Planning Analytics Licences
IBM® Planning Analytics, the latest release of Cognos TM1, automates your business collaborative planning, budgeting, forecasting and analysis processes. Influential Software, as IBM® Silver Business Partners, provides best-value IBM® Planning Analytics Licences, as well as other Planning Analytics Services and Support.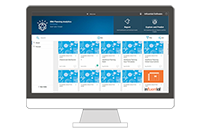 Powered by the enterprise-grade TM1 platform, IBM Planning Analytics runs alongside business analytics and reporting applications like Excel. So your teams can access real-time data from anywhere across your enterprise with self-service analysis through a dynamic, customisable workspace.
Flexible and agile, Influential Software offers Cloud, On-Premise or Hybrid IBM® Planning Analytics Licences to suit your business needs.
Best-Value IBM® Planning Analytics Licences UK

Speed, Agility, and Foresight — Powered by IBM TM1
IBM® Planning Analytics drives efficiency through improved staff productivity and reduces cycle times. It gives you the flexibility and agility to adapt to changing market conditions by combining financial plans with operational tactics based on dynamic, driver-based models. It also delivers insights, automatically, from your data and helps you pull ahead of competitors and stay agile for the changes ahead.
Speed
Start fast, adapt quickly, and grow your deployment where needed – drive efficiency by automating plans, analyses, and reports
Agility
Be flexible: adapt plans, budgets, and forecasts to changing business conditions, align financial plans with corporate objectives
Foresight
Explore and visualise from any data source, understand business drivers, and gain insights to plan ahead with confidence
---
IBM Self-Service Analytics – For All Business Users
Make self-service, cutting-edge analytics available to your entire organisation. IBM® Planning Analytics has all the capabilities you need to transform your business and finance within a single solution.
"Analytics are the backbone of the modern business. IBM® Planning Analytics provides the deep, real-time analytical insights that make a difference for your business".
---
What Can Your IBM® Planning Analytics Licence Do?
Gain forward-looking insights
Get real-time insights across your business dimensions (thanks to the powerful in-memory IBM TM1 OLAP engine)
Plan and visualize in an interactive workspace
A single, dynamic self-service workspace to link operational tactics to financial plans, synthesise information and create visualisations
Perform what-if analyses
Immediately see the financial impact of alternative courses of action by exploring scenarios or test business assumptions
Leverage your MS Excel skills
With full Excel capabilities, including graphics and built-in functions, you can take advantage of a familiar Microsoft Excel interface if needed
Choose a deployment that fits your business
IBM Planning Analytics Cloud offers a flexible, scalable platform can be used by individuals, teams, workgroups or the entire enterprise.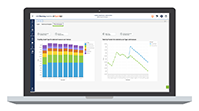 Formerly known as IBM Cognos Express, IBM Planning Analytics Express bundles together IBM's two industry leading analytics solutions, IBM Cognos Analytics and IBM Planning Analytics, into a single package ideally suited for small businesses or teams.
Deliver planning, budgeting and forecasting for workgroups and midsize companies, along with essential reporting, analysis, dashboard, visualisation and scorecarding at an affordable price.
---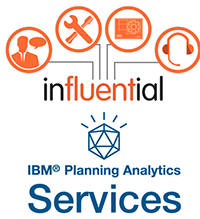 IBM Partners Influential Software provide a complete range of IBM and IBM Planning Analytics services to help business get the most from their Licences.
We have expert consultants who can help plan and manage your install, migration, or upgrade. We also have award-winning support and maintenance teams, as well as training and resourcing services.
---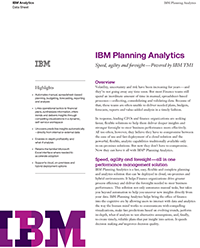 Speed, agility, and foresight—Powered by IBM TM1
Download
this pdf Data Sheet
(1.5MB – Opens in a new window).
A great overview of the highlights and features of IBM Planning Analytics.
---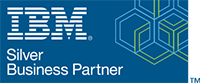 Influential Software: IBM® Silver Business Partner
Influential Software
 is an established IT Consultancy firm specialising in Business Intelligence (BI) and Enterprise Performance Management (EPM).
Our UK-based IBM consultancy, support and development teams have decades of specialist experience, spanning hundreds of successful projects, including software and services covering the past 20 years of releases of the full suite of IBM Analytics products:
IBM® Cognos Analytics (Cognos BI)
IBM® Cognos Impromptu
IBM® Cognos Powerplay
IBM® Planning Analytics (TM1)
IBM® Enterprise Planning
IBM® Controller
IBM® SPSS
If you're interested in our IBM Planning Analytics Services, why not visit our dedicated site?