Buy HULFT Integrate Licences
Buy best-value HULFT Integrate licences for data integration across all business sources.
Boost your ROI with partner advice, fast implementation, and optional services. We sell cost-effective licences for HULFT Integrate, as well as HULFT Transfer and HULFT Director.
Trust in the impartial expertise of UK HULFT Partners.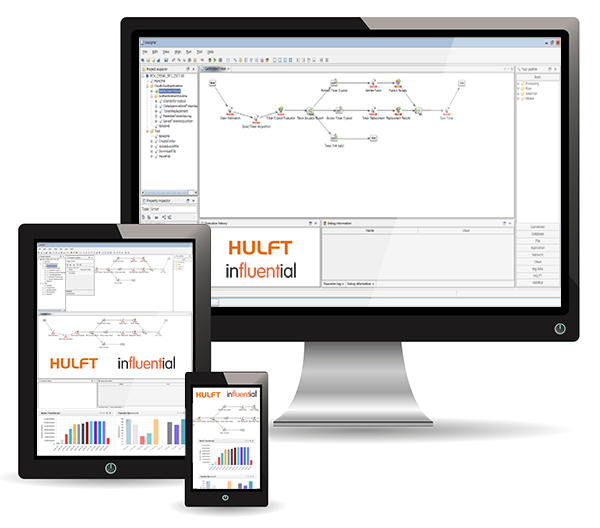 HULFT Integrate Licences for Connected Business
HULFT Integrate is the trusted platform for automating, orchestrating, and transforming your data integration. What once took hours of coding is now possible with drag-and-drop icons.
HULFT Integrate provides a powerful, comprehensive, high-speed data integration architecture.
Allow your users to work with all major data destinations through a single visual interface.
Best-Value Licences for HULFT Integrate
Our licensing team provides the most suitable licences at the most reasonable prices.
As an independent software vendor and service provider, Influential Software stakes its reputation on the quality and competitiveness of its licence offers.
HULFT Integrate Advantages
With expertly selected and configured HULFT Integrate licences, you can:
cut data prepping time
use a range of scalable adapters
easily create data management applications
reduce the complexity of your data workflow
conform to compliance and auditing needs
Connect Everything with HULFT Integrate Adapters
HULFT Integrate comes with a wide range of adapters to connect all kinds of data sources.
Database:
Access, DB2, DB2 for I, JDBC, MySQL, Oracle, ODBC, PostgreSQL, SQLServer, MongoDB, NeoCore
Network:
FTP, JMS, Mail, REST, Web, WebServices
Files:
CSV, Excel, File Operation, Filesystem, Fixed Length, Apache, Hadoop, HTML, Variable Length, XML
SDK:
Java-based SDK
Application:
Dr.Sum EA, List Creator, Microsoft Dynamics AX, SAP, SAPBC, SAP Table Query, Sedue, SVF, Tableau
Groupware:
IBM Domino, IBM Notes
Cloud:
Amazon Web Services, Cloundn, Google Apples, Kintone, Microsoft Azure, Nifty Cloud, Salesforce, and more
Middleware:
HULFT Transfer, Hadoop HDFS

HULFT comprises three data logistics solutions – Integrate, Transfer, and Director – that find, secure, organise, transform, and move the business data that matters most.
Our HULFT UK Partner status is proof of our hands-on knowledge of HULFT in real business situations.
Acting as impartial consultants, Influential Software provides the objectivity your business needs when making software investments.
In addition, we offer full services to make sure your software is perfectly configured and supported, so you get the maximum return.
With 25 years of experience and proven expertise, our HULFT licence team prides itself on three things:
unbiased consultation
tailored services
competitive pricing
For more about our services for HULFT Integrate, why not visit our dedicated site?
UK Official Partners