Buy Dell Boomi Mediate Licences
Use API management and design to build your connected business with best-value Dell Boomi Mediate licences.
Boost your ROI with partner advice, fast implementation, and optional services. We sell cost-effective licences for Dell Boomi Mediate, as well as all other elements of the Dell Boomi platform.
Trust in the impartial expertise of a UK Dell Boomi Partner.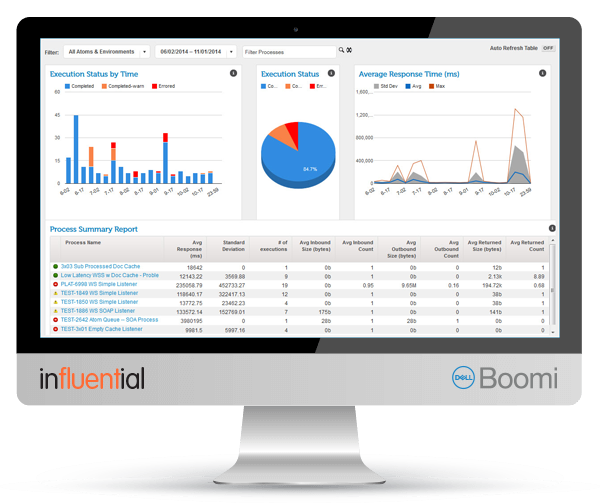 Flexible Dell Boomi Mediate Licensing
Dell Boomi Mediate licences are an additional element of the central Dell Boomi Integrate solution.
Dell Boomi solutions are available in five formats: Base, Professional, Pro Plus, Enterprise, and Enterprise Plus.
Base Edition: starter solution for SMBs to integrate two applications.
Professional Edition: for businesses looking to fully integrate their back- and front-offices.
Pro Plus Edition: additional functionality to support real-time integration needs.
Enterprise Edition: advanced features to support complex enterprise needs.
Enterprise Plus Edition: advanced features and connectivity to support large enterprise needs
As an experienced Dell Boomi Partner, Influential Software can meet all customisation and implementation needs when required.
Dell Boomi Mediate Advantages
With the ability to create, publish, and manage APIs from an intuitive platform, your business will solve the following challenges:
legacy systems with limited, complex connectivity to end-users
difficulty upholding QoS requirements
lack of analytics information on customer interactions
issues with close security exposures
outdated user experiences
inability to access all platforms, all the time
little collaboration with external developers who could widen your API reach
costly reliance on IT support
low app performance
not enough documentation for users

Dell Boomi comprises five solutions – Integrate, Mediate, Hub, Exchange, and Flow – that let you connect applications, data, and people across cloud, on-premises, and hybrid networks.
Our Dell Boomi UK Partner status is proof of our hands-on knowledge of Dell Boomi in real business situations.
Acting as impartial consultants, Influential Software provides the objectivity your business needs when making software investments.
In addition, we offer full services to make sure your software is perfectly configured and supported, so you get the maximum return.
With 25 years of experience and proven expertise, our Dell Boomi licence team prides itself on three things:
unbiased consultation
tailored services
competitive pricing
For more about our services for Dell Boomi, why not visit our dedicated site?
UK Official Partners