Buy Dell Boomi Flow Licences
Enjoy low-code application development and workflow automation with best-value Dell Boomi Flow licences.
Boost your ROI with partner advice, fast implementation, and optional services. We sell cost-effective licences for Dell Boomi Flow, as well as all other elements of the Dell Boomi platform.
Trust in the impartial expertise of a UK Dell Boomi Partner.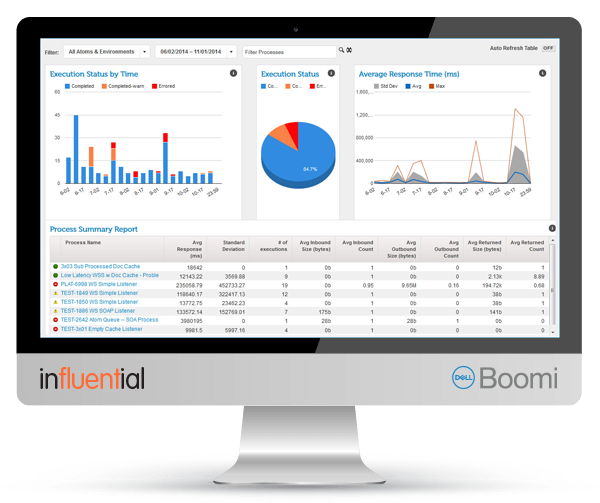 Best-Value Licences for Dell Boomi Flow
Dell Boomi Flow licences are an additional application development and workflow automation solution for the central Dell Boomi Integrate licence.
Dell Boomi solutions are available in five formats: Base, Professional, Pro Plus, Enterprise, and Enterprise Plus.
Base Edition: starter solution for SMBs to integrate two applications.
Professional Edition: for businesses looking to fully integrate their back- and front-offices.
Pro Plus Edition: additional functionality to support real-time integration needs.
Enterprise Edition: advanced features to support complex enterprise needs.
Enterprise Plus Edition: advanced features and connectivity to support large enterprise needs
As an experienced Dell Boomi Partner, Influential Software can meet all customisation and implementation needs when required.
Dell Boomi Flow Advantages
With expertly selected and configured Dell Boomi Flow licences, your users can solve the following challenges:
lack of app connectivity online and offline
complex and unautomated workflows within ecosystems such as SalesForce
lengthy manual processes and point-to-point connections that prevent collaboration and slow new workflows
experiences that produce low engagement with internal and external stakeholders

Dell Boomi comprises five solutions – Integrate, Mediate, Hub, Exchange, and Flow – that let you connect applications, data, and people across cloud, on-premises, and hybrid networks.
Our Dell Boomi UK Partner status is proof of our hands-on knowledge of Dell Boomi in real business situations.
Acting as impartial consultants, Influential Software provides the objectivity your business needs when making software investments.
In addition, we offer full services to make sure your software is perfectly configured and supported, so you get the maximum return.
With 25 years of experience and proven expertise, our Dell Boomi licence team prides itself on three things:
unbiased consultation
tailored services
competitive pricing
For more about our services for Dell Boomi, why not visit our dedicated site?
UK Official Partners